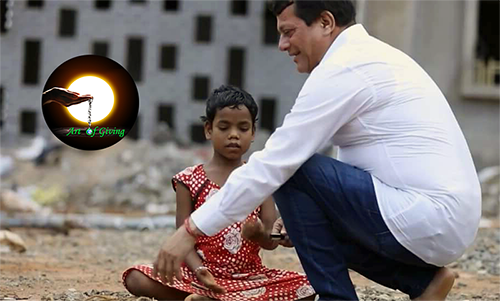 About Art of Giving
"Art of Giving" as espoused by Prof. Achyuta Samanta, an educationist par excellence and social reformer is a philosophy of life that aspires to promote happiness and peace in the world. He has been providing education, boarding and skills for empowerment to tribal youth of Odisha and neighbouring states, all free of cost for the last thirty years. He has empowered about a million lives through quality education. This selfless giving culminated into Art of Giving to give to the world a philosophical and action-oriented framework to experience the joy of giving. Art of Giving has become a civic movement- a volunteer based non-profit organisation. More and more people worldwide are joining the movement to spread the message of peace & happiness in the world.
Art of Giving took the form of a society, an NGO, that works on the cause of promoting positivity, kindness and compassion and expressing gratitude to the ones who give. In a world, where there is immense pain, misery and deprivation, yet plethora of wealth and riches, Art of Giving provides a platform to connect the ones who need it and one who have enough to give but do not get a right way to contribute. We are called Art of Giving because we provide a trustworthy platform for you to give with discernment and encourage the habit of giving. It has been proven scientifically too, that when you give, you are in the state of happiness.
Every day, we strive to make this world a better place. Our commitment towards bringing a change drives us. In addition to our work in the field of education and tribal uplift, we work on numerous humanitarian projects and service initiatives including: disaster relief, sustainable rural development, empowerment of women, environmental sustainability, healthcare camps and democracy promotion. Our young, dynamic, and committed volunteers are charged with the mission of harnessing the power of love and compassion to make a large-scale social impact. We are based on the foundation of dignity and not charity. We strongly believe that no one can change the world alone, and that's why we believe in the power of volunteerism. Every single day, each one of us are working together to unleash the power of giving to ensure a better tomorrow. If you resonate with the cause and our cause is your passion, join us and let us together, attempt to make a better world.
About Art of Giving